The third job in the "Finding Wanda" questline is Request 69 "Gone Astray…In The Highlands" in the video game Pokemon Legends: Arceus. Players should focus their attention here.
As players enter a new territory in Pokemon Legends: Arceus, some Requests open up a series of sidequests.
Casual players may easily solve them, although some are tougher to complete than others. Helping an NPC locate his sister, who often gets lost in every area of Hisui, is one of a collection of side missions.
In Pokemon Legends: Arceus, there are five Requests in all, the third of which is Request 69: Gone Astray…in the Highlands.
Players will learn how to summon Ride Pokemon as they go through the game, which may transport them over rivers or help them climb mountains.
Players who have completed Request 69 will be allowed to begin it after they are about halfway through Legends: Arceus.
How To Complete Request 69 In Pokémon Legends Arceus, "Gone Astray…In The Highlands"?
The "Gone Astray" series includes this request.
Wanda's brother Zeke keeps requesting that you employ Ursaluna to locate her since she has a tendency to wander off. In our tutorial for Pokémon Legends Arceus, you can see when this occurs.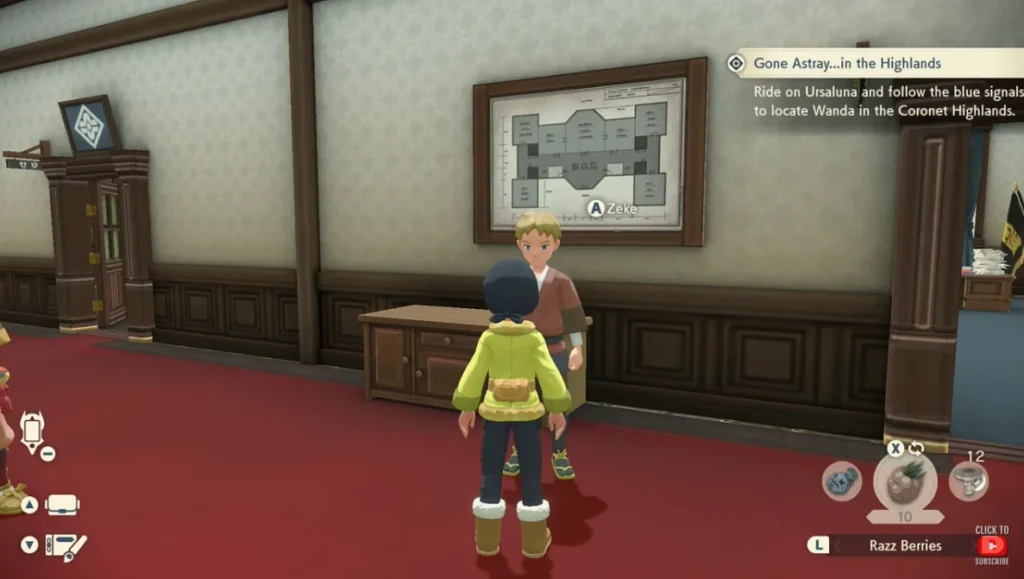 When you finish the primary quest to become friends with Ursaluna, the first game in the series, "Gone Astray… in the Mirelands," will become available.
You may get it from Zeke as soon as you enter Galaxy Hall.
After that, you must finish "Gone Astray… on the Coastlands." You can only access this when you can ride Basculegion.
In keeping with the theme, you can only unlock Gone Astray… in the Highlands, if you can ride Sneasler.
After you are ready and have finished the Coastlands entry, you may talk to Zeke at the Galaxy Hall entranceway once again.
You may need to leave the settlement for a short period for the request to open if you just finished the Coastlands quest and already have the ability to utilize Sneasler.
Gone Astray…In The Highlands Request 69 | Pokemon Legends: Arceus
Ezekiel is available to give players Request 69 in the Galaxy Hall. It's easy to overlook him since he's just outside Cyllene's office.
When approached, he will request Ursaluna's assistance in finding his sister, Wanda. The following requirements must be met by players in order for Request 69 to become available:
How to get there: Board the Ursaluna.
Finish Task 58: Gone Astray on the Coastlands.
How to get there: Use Request 38 and the Ride Basculegion to get there.
Start Mission 10 is to Climb Dangerous Heights.
Acquire the Celestica Flute so you can call Sneasler.
How to obtain: The Coronet Highlands is the site of the first battle with Ingo.
Players need to have calmed the Nobles Kleavor, Liligant, and Arcanine by this time in the game. They should also be able to ride Wyrdeer, Ursaluna, and Basculegion in addition to this.
If these conditions are met and the request is still not visible, it implies either Request 38, Request 58 or the Ride Sneasler was not completed.
Players should go to the Coronet Highlands and choose to spawn at the Mountains Camp after Request 69 has been started.
By completing Request 65: Setting Up the Mountains Camp, you may unlock this.
Follow the blue arrow and dial (+) to reach Ursaluna.
Cross the Lonely Spring River to the east of the Mountains Camp.
There is a ledge at Lonely Spring's southeast border. Players should be able to locate Wanda if they are searching in the appropriate place.
For her precise position, see the picture above (marked with a star).
After speaking to Wanda and completing these tasks, go back to Zeke in the Galaxy Hall. He will reward you with one Star Piece. This is available for 5000 poke dollars in the shop.
Gone Astray…in the Icelands is the subject of Request 77 for "Finding Wanda." Players won't be able to access this, however, until they've found the Alabaster Icelands.
The Reward For Gone Astray…In The Highlands
You will get praise from Zeke for saving Wanda again.
He will reward your efforts with two Star Pieces. They will go in your bag or, if that is already full, your storage.
Any of the game's vendors will buy Star Pieces for 5000 Pokébucks.
Last Words
We hope you enjoy this article [Gone Astray…In The Highlands], if you really enjoy this, then don't forget to share Multiplextimes.com with your friends.