People share the location of their iPhones with friends and family members for a variety of reasons, including keeping them informed of their locations.
This is handy in a variety of ways, including allowing friends and family to contact you in an emergency and locating your iPhone's position.
When you meet with friends, they might find out where you are since you disclosed your location.
Yet, disclosing a location might sometimes be considered a violation of personal privacy. You may not want your friends and family to know where you're heading for a private meeting.
You don't want to harm your friends and family members by telling them you're no longer sharing places with them.
In this post, we'll show you How To Stop Sharing Location Without Them Knowing?
Is It Possible To Stop Sharing Your Location Without Anybody Knowing?
Absolutely, there are methods to cease revealing the location while remaining anonymous.
You may simply prevent individuals from monitoring your position by deactivating settings like as "Share My Location" or "Find My iPhone."
Another benefit of turning them off is that no one will get any form of notice. Even if you re-enable the functionality, you will not get a notice.
Remember that certain techniques will prevent your friends from seeing you on their friend list.
Recommended: How To Turn Off Sensitive Content On Twitter, 2023?
How To Stop Sharing Location Without Them Knowing? 5 Best Methods
The following are the 5 best methods to stop sharing location without them knowing;
1. Switch To Airplane Mode
Turning on airplane mode is a simple technique to temporarily block others from knowing your position. It is a built-in function found in practically all kinds of mobile phones.
Please keep in mind that airplane mode disables all notifications and the usage of cellular networks, phone calls, and texts.
When you engage airplane mode, the network connection is disabled, and no one can see your whereabouts.
Go to Settings on your home screen to activate Airplane Mode.
You must now activate the airplane mode icon.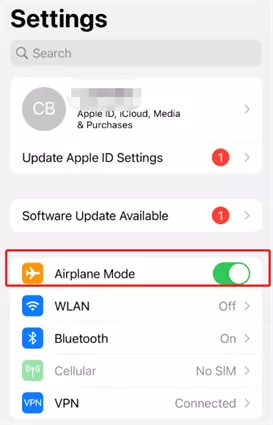 Another method for activating airplane mode is to;
Slide up from the bottom of the lock screen to access the Control Panel.
In the top right, there is an airplane symbol.
You must touch it to activate it, and it will change color.
2. Try A Different iPhone
The iPhone has a capability that enables users to share their location with another iPhone.
Your current location will be concealed if you share the location from another iPhone. This is only feasible if you are signed in on both devices with the same Apple ID.
Open the Settings app.
Go to your iPhone Profile.
Switch on the option to Share My Location.
Tap the 'Find My' app on another iPhone.
Tap the Me symbol and then choose "Use this iPhone as My Location."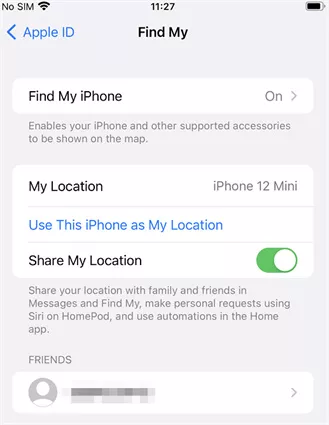 This iPhone will now be shared with your friends, and you may use and carry the other iPhone wherever you go, but the location of this iPhone will not be shared.
Recommended: How to Report A Scammer to The Police?
Another alternative is to disable the Share My Location option. This will prevent your location from being shared.
The function works well and does not send any notifications. Nevertheless, keep in mind that this function is only accessible on iOS 8 and later.
Go to Settings on your iPhone.
Choose Location Services from the Privacy menu.
You must choose "Share My Location."
To turn off location sharing, go to Settings > Location Sharing.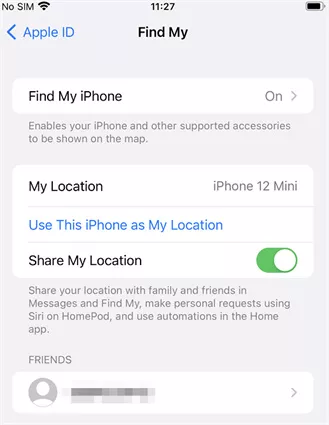 You may share your location with friends and family members via the Find My app. As a result, you may disable the app's Share my location option to cease broadcasting your whereabouts to everyone.
You'll need to launch the Locate My iPhone app.
You must choose the Me symbol.
Disable the 'Share My Location' option.
You will be able to eliminate the members with whom you do not want to share the location.
You may do this by heading to People > Tap on the contact > and then selecting the Stop Shared Sharing Location option.
Confirm your option, and you may cease sharing your location with that person without notifying him or informing him of your decision.
5. GPS Spoofering
There are several solutions available on the market that allow you to fake the location. This is a great approach to keep your present location hidden from others.
We offer iToolab AnyGo as a GPS spoofer for altering your iPhone's current location to any false place.
AnyGo must be downloaded and installed on your computer.
Connect your iPhone to your PC.
When you launch AnyGo, you must click Start.
Choose the Teleport symbol in the upper-right corner.
You must input the desired location and choose an available location.
It will display a location and prompt you to click "Go."
Establish A Virtual Location To Mask Your Location
There are also methods for hiding the phone's position by creating a virtual location. Here is how you can carry out this function.
To begin, you must install the Tenoshare iAnyGo program on your PC.
When the installation is complete, you must run the program.
You must now choose the option Change Location.
Connect your iOS device and then unlock it.
You must now press the Enter key.
It will let you input the desired address from the search box.
Lastly, press the Start to Modify button.
Hide Your iMessage's Location
When you send an iMessage, your primary location is immediately shared with the recipient. It may be a useful characteristic, but it can also be detrimental.
Thankfully, the program has a function that allows you to conceal your location.
You must first activate the iMessage app.
You must select any contact's discussion to cease revealing the location.
Tap on the Info icon located to the right of your contact's name.
Choose the option to Stop Sharing Location.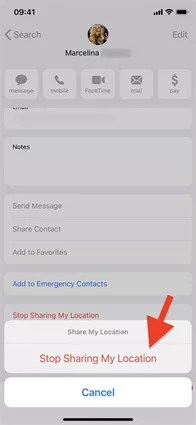 There is also the opportunity to choose how long you want to share the location with the chosen contact. Take in mind that this function will notify the recipient that you have ceased sharing your location.
Recommended: "LG IMS Keeps Stopping" How To Fix?
How Can You Know If Someone Has Stopped Sharing Their Location?
The simplest method is to go through your list of friends. On iPhone, you may check the "Find My" app and then the "People" section to see whether someone has stopped sharing their location.
All of your relatives and friends who have opted to share their whereabouts with you will be listed. If you no longer see their names, it implies they no longer share their whereabouts with you.
Conclusion
Revealing your location may help your family and friends hunt you down when necessary.
But, it is often a tradeoff with your personal privacy, therefore you may switch on sharing your whereabouts with certain members as well as all of them.
We have included all of the various methods of How To Stop Sharing Location Without Them Knowing? Hope you enjoy the article, don't forget to share Multiplextimes.com with your friends. Thanks!
FAQs
Can My Location Be Traced Even If Location Services Is Turned Off?
It is still feasible to follow an iPhone with location services off, but this would need resources normally allocated for police enforcement and other government agencies.
Your iPhone continues to transmit a signal to cellular towers and network routers, which may be traced by people with the necessary tools.
Is The iPhone's Location Tracking Reliable?
The precision of location tracking is affected by where you are. Greater metropolitan areas, such as cities, often have superior GPS accuracy than rural regions.
Is It Possible To Impersonate Your Location On Locate My iPhone?
To spoof your location on Find My iPhone, you must either jailbreak the smartphone or utilize third-party programs such as iMyFone AnyTo.
Since jailbreaking might violate the device's warranty, it's best to utilize third-party software to cease sharing location without alerting iMessage.