Turn Off Sensitive Content On Twitter: Certain Tweets are marked with a 'Potentially Sensitive Material' notice on Twitter, although users who want an unfettered look in their stream may deactivate it.
Although the firm has tight regulations prohibiting 'excessively gruesome' media and media showing sexual violence,' the sensitive content designations are generally reserved for Tweets that feature violent or NSFW photos or videos.
Twitter is one of the world's major social media networks, with over 200 million daily active users.
Although the corporation is more open to graphic material than Facebook and Instagram, there are still certain rules that users must follow.
The sensitive material alert may be turned off under Twitter's privacy settings on the Android app and the web, but not on the iPhone and iPad apps.
But, by adjusting the option on the Twitter website, iPhone and iPad users may still read sensitive information without being warned.
Have you ever noticed that certain Twitter material is labeled as "sensitive"? Yet, some users prefer to have complete access to their feeds.
Sensitive content is often prohibited from searches on Twitter. We may also delete it from the settings if you need to access vital information.
Sensitive content is often prohibited from searches on Twitter. We may also delete it from the settings if you need to access vital information.
We will go into further detail on how to rapidly turn off sensitive content on Twitter. In addition, we'll show you how to remove sensitive content alerts from your posts.
Recommended: Why Won't My Snapchat Open, How To Fix? 10 Easy Fixes
How To Turn Off Sensitive Content On Twitter 2023
You may simply deactivate the warning notice if you wish to read sensitive information in your Twitter feed.
We've detailed how to turn off sensitive content on Twitter on your Android or iPhone smartphone in a few simple steps below.
_ Users Of Android
On your Android smartphone, launch the Twitter mobile app.
In the upper left corner of your screen, tap on your profile image.
Choose Settings and privacy from the sidebar menu.
Choose the Privacy and security option.
Choose the options Content you see.
Toggle the Show media that may contain sensitive material switch on.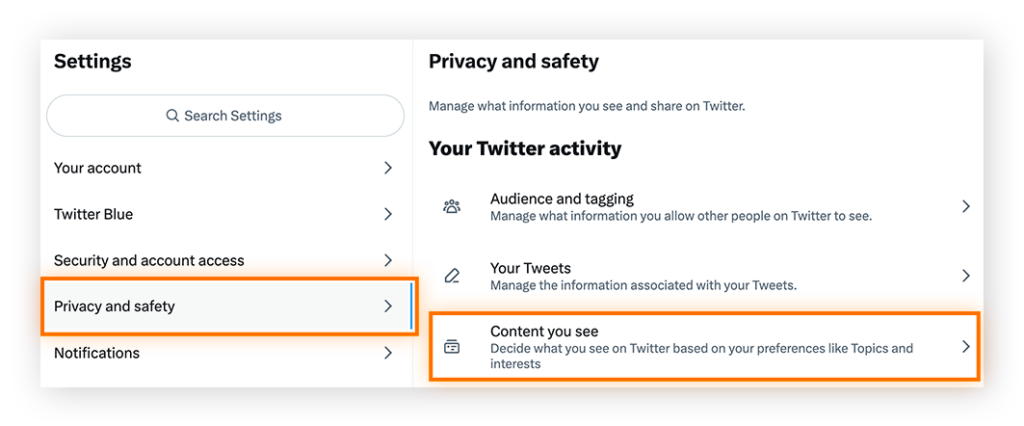 _ Users Of iPhones
The option to disable Twitter's sensitive content warning is not accessible in the Twitter app for iPhone and iPad.
Nevertheless, you can disable the warning from any iPhone browser; here's how:
Log in to your Twitter account using any browser on your iPhone.
Touch the profile symbol in the top left corner.
Choose Privacy and security options from the menu.
Choose the options Content you see.
Check the box next to the option Show media that may contain sensitive material.
Go to Search Settings.
Uncheck the box next to Hide sensitive material.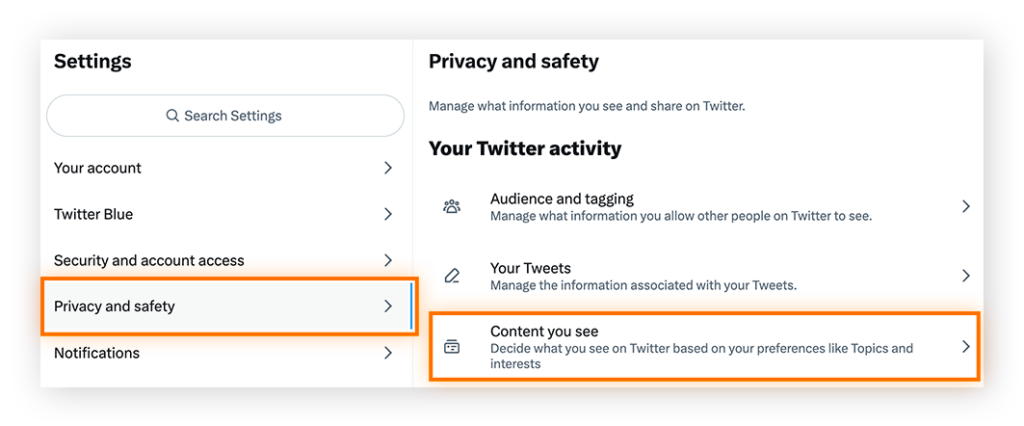 How To Eliminate The Sensitive Content Notification From Your Own Tweet
If you upload sensitive information or submit tweets with sensitive content, Twitter may include a warning label on your Tweet. Follow these simple procedures to remove the sensitive content label:
_ Users Of Android
Open Twitter and choose your profile picture.
Choose Settings and Privacy.
Choose the Privacy and security option.
Choose Your Tweets from the drop-down menu.
Disable the toggle next to the option Mark media you tweet as potentially sensitive.


_ From A PC OR A laptop
Open Twitter.com and choose More from the sidebar.
Choose Privacy and safety after clicking on Settings and privacy.
Choose Your Tweets.
Clear the option next to Mark the media you tweet as potentially having sensitive content.
On Android, Disable The Sensitive Content Warning
The content warning may also be turned off in the Twitter app for Android, and the procedure is quite identical to that of the website.
To turn off the warning on the Android app, press the profile picture in the upper left corner and then choose Settings and Privacy from the slide-out menu.
Tap on Privacy and safety on the following page, then proceed to the Material you view.
Turn on the option next to Show material that may contain sensitive content.
This will deactivate the tweet's sensitive content notice.
Tweets containing sensitive material are automatically concealed from searches, however, users may change this if they choose.
Again, the procedure applies to both the website and the Android app, but not to the iPhone or iPad.
To remove the sensitive material notice from searches, go to the website, choose More, then Settings and privacy, then Privacy and safety, and finally Content you see.
Lastly, go to Search options and uncheck the Hide sensitive material box. This ensures that all information will be featured in future Twitter search results.
Turn Off Sensitive Content On Twitter On The Web (Desktop OR Laptop)
Here's how to disable sensitive Twitter stuff from your desktop or laptop:
Launch your browser on your desktop or laptop computer.
Go to Twitter.com and sign in using the correct credentials.
On the sidebar menu, choose more.
Go to Settings and Privacy.
Next, choose the Privacy and security option.
Choose the options Content you see.
In the newly opened tab, tick the box next to the option "Display Media That May Contain Sensitive Material."
There you have it! Follow these instructions to disable the sensitive content warning on your desktop or laptop.
What Is Twitter Sensitive Content?
Individuals use Twitter to share life updates or what's going on in the world. And they often utilize photos or videos to create a dialogue with the Twitter community when sharing these updates.
These photos and videos may include violent, abusive, or adult material at times. Twitter classifies these items as sensitive material.
The following material, according to Twitter, falls within the category of sensitive content:
Any kind of media that displays violence, such as violent crimes, medical procedures, physical fights, blood, bodily hurt, accidents, visual injuries, and so on, is considered graphic violence.
Pornographic images or video material, complete or partial nudity, sexual acts, and so forth.
Any images or video material that depicts very gory stuff relating to violence, abuse, or death, for example.
Any picture, logo, video, or symbol that promotes hatred against any race, religion, sexual orientation, gender, or handicap.
Worldwide, Twitter has around 206 million daily active users. Understandably, some people may be uncomfortable seeing sensitive stuff in front of such big audiences.
As a result, Twitter prohibits you from submitting abusive, sensitive, or violent material to your profile, live video, list banner photos, or header.
Recommended: "Last Line No Longer Available", How To Fix? 10 Best Fixes
Why Does Twitter Flag Some Tweets As Having Sensitive Content?
Twitter is a platform where individuals from all over the globe can engage in wide discussions and form communities.
Although this allows you to freely express yourself, it also allows for disturbing postings and inaccurate information.
Twitter's purpose, on the other hand, is to share genuine information rather than promote sensitive stuff that violates their standards.
As a result, when they detect a tweet containing abusive, violent, or pornographic content, they limit it with a warning notice such as
"This media may include sensitive material"
OR
"The following media contains potentially sensitive information."
A notice like this one informs the user that the restricted tweet may include pictures or videos that are detrimental to the user.
While the danger associated with the material may not be significant, and it may not explicitly violate Twitter's terms and conditions, users may nonetheless be damaged or impacted.
Twitter guarantees that users can make educated choices about what they want to view on the network by providing a sensitive content notice.
Recommended: "LG IMS Keeps Stopping" How To Fix? 8 Fixes
Why Is It So Difficult To Turn Off Sensitive Material On Twitter?
Twitter's sensitive content settings are not accessible on the iPhone or iPad. If you have an iPhone, you will be unable to remove the warnings. But, you may update the iPhone's settings using a browser.
If you are unable to disable Sensitive Content on Twitter from your Android phone, make sure you have the most recent software version.
You may eliminate the warning warnings by updating the program to the most recent version.
Finishing Up
Unlike Facebook or Instagram, practically anybody can publish anything on Twitter. It surely allows individuals to openly express themselves and start a dialogue. It does, however, have certain downsides.
Millions of individuals send out tweets containing potentially dangerous media or information. Twitter has given users more flexibility by allowing them to enable and hide sensitive material.
Users may filter their tweets depending on their preferences and have a fantastic experience on the site thanks to the warning message.
Hope you enjoy this article (How To Turn Off Sensitive Content On Twitter?), if you really enjoy the article don't forget to share Multiplextimes.com with your friends, thanks!
FAQ's
Is It Permissible To Use Profanity On Twitter?
The circumstances will mostly dictate how profanity is utilized. If you're simply joking about your buddies, there shouldn't be any problems.
But, if you often use profanity on Twitter, your profile may be banned and you may face significant consequences.
I Am Unable To Access Sensitive Stuff On Twitter. Why?
It is conceivable that you will be unable to see the information due to your media settings.
Now that you know how to deactivate Twitter's sensitive material option, you may use the strategies detailed in this blog article to easily access these tweets.
Why Is There No Activity On Twitter?
Caching data might be the culprit. To erase the cache and cookies on mobile devices, go to the settings menu and choose "Clear cache."